What's new in the
Virtual Office mobile app

9.1 release?

We have introduced the following enhancements and changes in the Virtual Office mobile app:

For details on features introduced prior to this release, see our list of previous releases.
Ability to undo hiding a chat conversation
As an Android user, let's say you accidentally hid the wrong chat in the Messages tab; for a few seconds after you hide a chat, you now have the ability to undo your action and display the chat again.

For details, see our content on hiding chats.
Removed need for data encryption setting
The Data Encryption setting formerly found on your Virtual Office mobile app is now replaced by your Android device's native sandboxing and disk encryption!

The setting was disabled by default; if you did not enable the option in the Virtual Office mobile app, it disappears once you upgrade to version 9.1. If you enabled the option, you must disable it and relaunch the app to remove it.
New follow-up notifications for unattended missed calls
You no longer need to worry about forgetting to follow up on a missed call! If you miss a call in Virtual Office and don't reopen the Virtual Office mobile app in the next 48 hours, you now see a reminder in your device notifications so that you have a chance to call back.

Enhanced experience for joining meetings as a guest
When you join a meeting as a guest directly from the Virtual Office mobile app login screen, you now see references to "meeting name" instead of "meeting ID" to better reflect what you need to enter.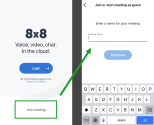 Previous releases
The following features and enhancements were introduced in previous versions of the Virtual Office mobile app. For details on the latest new features, see our list of what's new in the current release.