What's new in the 8x8 Admin Console 1.32 release
In this release of 8x8 Admin Console, we have introduced the following enhancements:
Adding configuration changes related to Switchboard Pro EoL
As you are aware, 8x8 is preparing to EoL Switchboard Pro and replace it with 8x8 . To facilitate this effort, we are making some changes in the 8x8 Admin Console.
For new 8x8 customers, the Switchboard Pro section in user settings will be hidden completely.
Existing Switchboard Pro customers will continue to be able to provision new Switchboard users until Switchboard EoL.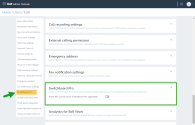 Enhanced settings for Secure Real-time Protocol support
Secure Real-time Transfer Protocol (SRTP) is a standard protocol for securing VoIP traffic. SRTP which is intended to provide encryption, message authentication and integrity, and protection, is enabled by default for all devices. Disabling TLS/SRTP switches the endpoints over to User Datagram Protocol (UDP) and Real-time Transport Protocol (RTP).
Prior to this release, the setting to enable or disable SRTP for a device was available for all devices even when the devices did not support SRTP. In this release, we have enhanced this setting to show only for devices that support SRTP.
To enable SRTP for an endpoint:
While creating or editing a user, go to

Home > Users > Voice Basic Settings

.
In the

Device model

option, select a device such as Polycom VVX 450.
Toggle on

Enable Secure Real-time Protocol

and save the changes.
Note: If you select a device that does not support SRTP, this setting will be hidden.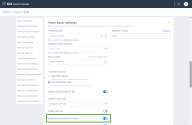 Enhanced Company page
In this release, we have enhanced the Company page by grouping the PBX details in a separate tab. The Company page now has two tabs:
Profile

: View a summary of the phone system including information about the number of sites, number of PBXs, dial plan, and more.

PBX

: Review the list of PBXs assigned. Select a PBX to view the details such as the country it is assigned to, dial plan, language for prompts and email notifications, and time zone.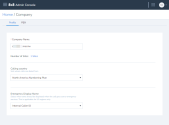 Introducing new options for Yealink W70B based DECT devices
We are introducing a new set of DECT devices based around the Yealink W70B base station. This base station supports RT30 repeaters which help improve call reception. We support two models of handset:
Yealink W56H is a regular handset for the W70B DECT base station; available as a bundle W56P.
Yealink W59R is a ruggedized handset for theW70B DECT base station, available as a bundle W59P.
In 8x8 Admin Console, under user voice basic settings, select the handset and then the base while assigning a device to users.
Resolving a functionality issue in Auto Attendants
While setting up a menu in an auto attendant, where customers can dial DTMF keystrokes to select a menu item, some of the additional settings for the menu were ignored unless the option to allow callers to dial an extension at any point was enabled. Prior to this release, the option to set a duration the system should wait before taking next action and the option to replay the menu if the user fails to input a key were ignored. This dependency has been removed in this release and the settings are honored even when callers are not allowed to dial an extension at any point.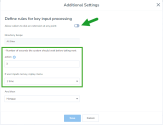 ---
See our content for all Previous releases.