What's new in the
8x8 Admin Console

1.30 release?

We have introduced the following feature enhancements and changes to the product in this release:
Improvements to license management
To facilitate better experience with 8x8 billing, we are introducing improvements to the license management page in 8x8 Admin Console. We have reorganized the license list from a flat list to a three-level structure. Licenses are grouped by:
License type
License country
Detailed side panel
The details side panel displays:
License IDs
Who or what each license is assigned to
The service address associated with each license
Additionally, we allow:
Filtering by country
Searching by license ID
Filtering by license status (assigned/unassigned/suspended)
Ability to update the service address of unassigned licenses
Each license is associated with a service address based on the sales order location. Let's say your company orders licenses in bulk from the headquarters (NewYork) location, but then distributes it to your branch offices in Seattle, Delaware, and Washington. The service address of the assigned licenses get updated while the unassigned licenses remain bound to New York. With the varying state taxes in the US, the amount billed for unassigned licenses may not be accurate. To resolve this issue, in this release, we are introducing the ability to manually update service addresses for unassigned licenses as well.
To manually updated the service address of unassigned licenses:
Go to

Licenses

.
Select a license type and expand the countries the license is available to.
Select a country to view the license details panel.

Unselect the filters Assigned and Suspended to view just the unassigned licenses.

Note: By default, you can view licenses that are assigned, unassigned, and suspended.

From this list, in the service address column, select the site address to associate the license to.
To update the service address for multiple licenses, simply select the desired licenses and choose a service address from the available service address options.
Notice the unsaved changes link at the top of the list. Click to view a summary of the address changes including the previous address and the newly opted address for each license.


Click

Save

to save all the address changes.
These service address changes will reflect immediately in the licenses list in 8x8 Admin Console, while it takes around 15 minutes to cascade to the 8x8 Billing portal.
Learn more about license management.
Revised labelling
The Identity Management icon in the home page is now relabelled as Identity and Security to accurately represent the functionality changes.

Ability to configure user provisioning independent of SSO
User provisioning integration allows you to automate employee onboarding & offboarding by having the users in your enterprise directory synchronised into 8x8 Admin Console. Until now, configuration of User Provisioning (aka SCIM) Integration used to be tied into configuration of SSO integration. This worked well if the same identity provider was used for both SSO and user provisioning. This was not ideal for customers wanting different Identity providers for the two integrations or simply wanting to disable SCIM without interrupting SSO. We have now decoupled the two and introduced the ability to configure user provisioning independently.
To configure:
Go to

Identity and Security

.
Under

User Provisioning Integration

settings, select the desired Identity Provider and add the relevant information.
Additionally, we have reorganized the information as follows:
8x8 authentication and SSO authentication are now grouped separately
Advanced password settings are grouped under the 8x8 authentication box
Inability to disable authentication settings
To prevent any unintended disabling of both 8x8 authentication and SSO settings, we now disable the option to toggle off the remaining option. Let's say you have enabled both authentication options, you disable the 8x8 authentication option. Now if you try to disable the SSO settings, the toggle is greyed out preventing you from turning off this option thereby retaining the settings for at least one mode of authentication.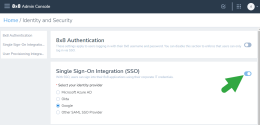 User retrieval in user provisioning
Previously, for user provisioning, you were limited to retrieving users created in the Identity Provider such as Okta. If you created users in 8x8 Admin Console, you could not retrieve them in Okta. We have now introduced the ability to retrieve:
All users
Only users created by the identity provider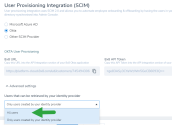 If you select All users, you can retrieve users created in the 8x8 Admin Console along with users created in the Identity Provider thereby allowing the Identity Provider to take control of the user profile if the login IDs map.
---
What's new in the 8x8 Admin Console 1.29.1 release?
We have introduced the following feature enhancements and changes to the product in this release:
Introducing 8x8 Frontdesk
In this release, we are introducing settings to enable 8x8 Frontdesk, a flexible and easy-to-use desktop based application for 8x8 Work users. 8x8 Frontdesk offers better call management capabilities to front desk receptionists and improves their experience in handling a large volume of calls and needing to frequently transfer calls.
8x8 Frontdesk can be configured to suit varying business needs. Follow these instructions to enable 8x8 Frontdesk to a single user.
To enable 8x8 Frontdesk to a user:
Log into the

8x8 Admin Console

.
Go to

Users

.
Select to edit the desired user.
In the user settings, under

Services and permissions

, if the user is assigned with an X4 or higher license, toggle the

Enable Frontdesk

on.

Proceed to assign a phone number to the user.
As a next step, assign the receptionist phone number as the site main line number.
Go to

Sites

.
Select to edit the site to which the user belongs.
With this setup complete, the user enabled with 8x8 Frontdesk can now log into 8x8 Work for Desktop and access the Frontdesk functionality. For more information about 8x8 Frontdesk end user experience, check out the user guide. 8x8 Frontdesk can be configured to suit varying business needs. Learn more about the use cases.
Revised UI labels for an enhanced user experience
We have revised the following UI labels:
In the individual site edit, the field previously labeled as Receptionist is now revised to Default voicemail 0 out destination to correctly represent the intent of the field. Callers reaching the voicemail of a site member can dial 0 during the greeting and be redirected to the destination you specify. This default setting can be overridden by users.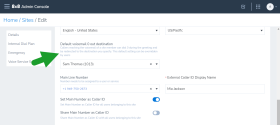 Switchboard greetings is now labelled as Receptionist greetings.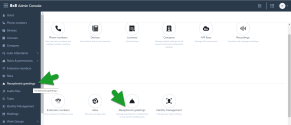 ---
What's new in the 8x8 Admin Console 1.29 release?
We have introduced the following feature enhancements, bug fixes, and changes to the product in this release:
Introducing enhancements to custom dial plans
To meet the dialing needs of our X Series customers, we have now introduced the ability to customize rule sets in custom dial plans.
Previously, the custom dial plans allowed users to access emergency number dialing, domestic, and international dialing. In this release, we allow adding up to three custom rule sets to meet specific business needs.

Prior to this release, custom dial plans created by 8x8 were available to all 8x8 X Series customers. With this release 8x8 can create private custom dial plans for specific customers who need them.

Standard dial plans such as the North American Numbering plan can be duplicated and customized with additional custom rule sets to meet the individual business needs. These customized standard plans replace the predefined standard dial plans.
Preparing for multiple PBX support
For 8x8 customers migrating to X Series, our efforts are in full swing to support duplicate extension numbers on multiple PBXs. Duplicate extension numbers across multiple PBXs must be prefixed with PBX codes to become unique. For example, if your offices in Seattle and San Francisco use identical short digit codes, then you must use PBX codes while dialing to reach the desired destination. To reach the extension 1001 in the Seattle office with the PBX code 11, you need to dial 111001. To reach the extension 1001 in the San Francisco office with the PBX code 21, you need to dial 211001. In this release, if you have auto attendants and call forwarding destinations set to local extension numbers for ring groups, call queues, and users, they will route to the correct destination. In a future release, we will add support for PBX codes for remote auto attendant and call forwarding destinations. Until then, you will need to add remote destinations as custom numbers.
Limiting transcription policy to Speech Analytics customers
The transcription policy icon in the home page of 8x8 Admin Console is now displayed to only 8x8 Speech Analytics customers.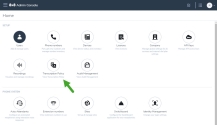 Switchboard label changes
The label for Switchboard in the Home page is now revised to Switchboard Greetings to clearly indicate the functionality offered via 8x8 Admin Console. When you navigate using this icon, you can set up switchboard greetings for receptionists. Additionally, we have added helpful tool tips on the screen while defining switchboard greetings.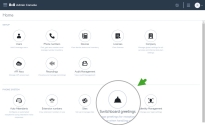 8x8 Contact Center SMS channel provisioning improvements
When a phone number is provisioned to an SMS channel in 8x8 Contact Center, it will now be marked as assigned to Virtual Contact Center SMS. This eliminates any possibilities of reassigning this phone number to another user or service accidentally. Previously, the phone number showed up as available in the list of phone numbers or reports in 8x8 Admin Console.
Go to Home > Channels to view the list of 8x8 Contact Center voice and SMS channels. When you generate the VCC Channels report, the report lists them as assigned.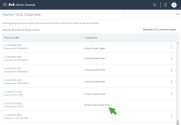 Bug fixes
| Bug description | Resolution |
| --- | --- |
| Unable to add more than 25 members to a paging group | Fixed |
| Bulk editing a large number of users results in errors. | You can edit up to 120 users at a time. |
---
See our content for all Previous releases.