What's new in the
8x8 Admin Console

1.34 release?

In this release of 8x8 Admin Console, we have introduced the following enhancements:
Relaxed validation logic for Identity and Security information
While setting up Single Sign-On for a SAML provider such as Okta, we have relaxed the validation logic for IDP Issuer field value in the Identity and Security page. Let's say you select Okta as your Identity Provider, you can now enter a value for the IDP Issuer field without any restriction.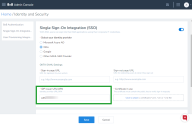 Enhanced tool tip for porting phone numbers
We have introduced a more helpful tool tip for the preferred porting date field. While submitting a request for porting phone numbers, the tool tip message alerts you that your preferred date of porting is not a guaranteed date for porting and that once the request is submitted, our porting team will communicate a confirmed porting date allowing you to make any further arrangements. After selecting the porting numbers, you are alerted once more before proceeding to the next step in porting
Updated validation message for BMW group admin
While selecting a user as a Barge-Monitor-Whisper (BMW) group admin, the system validates the license eligibility of the user to be a BMW group admin and displays a message when the validation fails. This message is now updated for brevity and better user experience.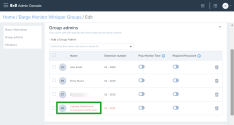 Translation support for Estonia and Ecuador dial plans
We have now added translation support for Estonia and Ecuador global dial plans.
In addition to the above enhancements, we have released bugs fixed in this release.
---
What's new in the
8x8 Admin Console

1.33 release?

In this release of 8x8 Admin Console, we have introduced the following enhancements:
Multi-Contact Center enhancements (Limited Availability)
8x8 is introducing support for multiple contact centers in this release. As an 8x8 Contact Center customer, you can now have more than one tenant each with different license types. As a multi-contact center customer, you will notice the following changes in 8x8 Admin Console:
Channel rerouting and logins

page is now moved under the Company page: To access this page, from

Home

, go to

Company

and select the

Contact Centers

tab. You will see a list of contact centers with name, region, and the routing plan. To learn more about the routing plans, click here.


With support for multiple contact centers, we are introducing the following enhancements:
When you select to view Contact Center details, the side panel shows the following enhancements:
Contact Center ID (i.e. Tenant ID) is shown
PBX name is shown in the region field
Extra voice ports section clarified and only shown if customer has voice ports licenses
License count warnings clarified

Contact Center name is shown in more places:
On assigned licenses in the Licenses page
On the Site selector in the User create page
RBAC scoping for Storage roles allows restriction to both Sites and Contact Centers (Which sites and which contact center does the admin need access?)
Existing "Storage Admin" scopes will be converted to the new scopes
Introducing Work apps settings for IT admins
In this release, we are introducing options to IT admins to allow or prevent access to certain settings for end-users. For example, end-users can enable built-in call controls. Beginning this release, IT-admins can control this setting from Admin Console for all end-users. If required, they can disable end-users from making changes to this setting. This offers admins granular control to define default values for some settings for all end-users in your organization, check which settings can be further altered by each user, or prevent them from making any changes.
Admins can now manage the following Work app default settings:
Enable built-in call controls: Allows integrated call control settings for specific headsets.
Enable call control window: Allows you to access the floating call control window when the app is not in focus.
Call info pop-up: Allows you to quickly view details about the caller and prepare for the caller for a better customer experience.
Set status away: Allows you to set your status to automatically display as Away after a period of time.
Additionally, with the ability to lock these settings, admins can prevent end-users from changing these settings.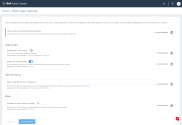 In the RBAC roles, the Super Admin and Company Admin role permissions now include Work app settings.
EOL warning message for SWB Pro
With the scheduled end of support and end of life of Switchboard Pro, we are making some changes to the related admin settings. In this release, we will add alerts to admins about the upcoming end of support in the screens relevant to the Switchboard Pro settings.
Nomadic 911 enhancements
Removal of "None" address option for Service Location when ERS enabled
Prevent enable of ERS when "None" is set as the Emergency Address
Nomadic 911 home page icon/menu item visibility restricted to company settings permission
User report includes column for ERS Enabled
Other Enhancements
Number claiming for Puerto Rico now allows for both area codes (939 & 787)
Modified approach to selecting BMW group administrators: Prior to this release, while adding BMW group admins, they had to be a member of the BMW group. Now, we have removed the limitation allowing you to simply search for any user and add them to the BMW group admin. If the user selected does not have the right permissions, you will be warned about it so you can resolve the permissions before saving the group admin role.
SRTP toggle is shown for ATA devices that support it in User create/edit page.
Label change for Quality Management and Speech Analytics for UC to Conversation IQ to align with marketing terminology
---
See our content for all Previous releases.