What's new in May?
8x8 Contact Center plans on releasing the following features in May.
Introducing 8x8 Supervisor Workspace
8x8 Supervisor Workspace is an all-in-one interface that combines analytics, performance management, and team admin capabilities for contact center leaders. It will bring AI-driven decision intelligence, personalized environments, user-friendly design, and a single pane of glass for essential operational insights. The solution helps Supervisors manage teams and make decisions more efficiently and effectively, saving time and boosting productivity.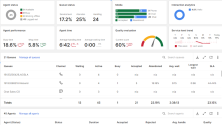 This new interface enables supervisors with the ability to manage their agents more efficiently, while providing real-time agent and queue statistics in a user-friendly dashboard. 8x8 Supervisor Workspace provides critical insights into an agent's performance, and allows supervisors to configure an agent's queue assignment from this dashboard. Supervisors can also monitor other metrics, such as queue wait times and service levels, to ensure adequate coverage for their 8x8 Contact Center.
The Supervisor Workspace will become available to 8x8 Contact Center customers as part of our open-beta starting in early June. You do not need to do anything at this time to opt in to gain early access. We will be communicating to all 8x8 Contact Center customers with further details as the open-beta period approaches.
Keep web chat session while navigating across webpages
A new set of capabilities released this month prevents a conversation from refreshing when a customer using web chat navigates to different pages on the web site.
This offers continuity in conversation in situations such as the following:
Agents can guide customers to different pages in the web site and still keep the web chat conversation ongoing
If a customers internet connection drops, they can continue the conversation when it comes back online
A customer accidentally closes the browser, when it reopens they can continue the conversation
Bug fixes
We fixed the following bugs in April.
| Bug | Description |
| --- | --- |
| VCC-68754 | WhatsApp keeps sending messages to the customer and connecting them with a new agent. |
| VCC-68799 | Overload condition in "Forward to Queue" is not working for Social Media scripts |
| VCC-68833 | 8x8 CC Chat API V1 sendMessage fails if "isBot"=true |
| VCC-69094 | Agent Workspace and Monitoring show different times for work offline status |
| VCC-69138 | Supervisor Name appeared during QM Live Monitoring |
| VCC-69267 | Ending the call on Agent Workspace leaves the caller live |
| VCC-69323 | When adding a .png image to a CC email response, it changes the background |
| VCC-69528 | Unable to recycle old numbers to provision to a new tenant on the same site |
| VCC-69685 | Error in the real time data for Agent "Time on Status" |
Important Notifications
---
What's new in April?
8x8 Contact Center will be releasing the following features in April.
---
What's new in March?
In March, 8x8 Contact Center has introduced the following feature.
---
What's new in February?
In Februrary, 8x8 Contact Center is planning to introduce the following features and enhancements:
---
What's new in January 2023?
In January, 8x8 Contact Center is planning to introduce the following features and enhancements:
To learn more about our recent releases in 2022, click here.