What's new for
8x8 Contact Center

agents?

In 2023, 8x8 Agent Workspace

The brand new interface for 8x8 Contact Center agents to receive and process customer interactions. has introduced the following enhancements:
New color label for wrap up status
When an agent ends an interaction and is in wrap up status, the status color changes to purple. This enhancement helps agents and supervisors quickly distinguish between agents in busy status and agents in wrap up status without having to hover over the status icon to see the status details. Prior to this release, a red color label was used for agents in busy status and wrap up status.

Enhanced agent classification list for call transfers
When transferring a call to another agent, the agent list displays agents by group. This enhancement enables agents to identify the desired contact faster. Prior to this release, when transferring a call to another agent, the list displayed all agents or a selection of agents if search filters were previously applied.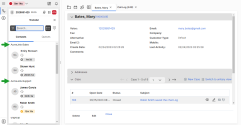 Enhanced call history
The call history in Agent

Agents use the Agent Console to view and manage customer interactions. Virtual Contact Center supports Regular agents and Supervisor agents. Workspace now displays when you click the Make a call field on the Control Panel or when you access the dial pad. If you're trying to reach a number you previously dialed, you can select it from the call history list and dial out without having to manually input the number. Prior to this release, the call history was displayed only after entering the first digit of the phone number.

Enhanced UI design for setting up your workplace phone
The UI interface for setting up the workplace phone has been updated to display the option in a drop-down list format for a more user-friendly experience. Prior to this release, agents had to select a radio button to change their workplace phone number or SIP URI. With this release, these options are accessible from the Phone setup dialog. For more information, click here.
Updated UI for Call phone
Agents can now access the Call phone feature, which allows agents to test their phone connection and set up a voicemail greeting, from the Voicemail setup dialog. Prior to this release, the Call phone feature was listed under Workplace Phone settings in My profile. To access the Voicemail setup settings, go to My Profile > Settings > Connectivity > Change (Phone setup) > Voicemail setup. For more information, click here.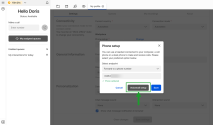 Ability to transfer digital chat interactions to agents
Agents are now able to transfer a digital chat interaction to another agent. Previously, an agent was able to transfer an interaction to another queue, but directing to a specific agent was not possible. Now agents can transfer active chat conversations to other agents in a few clicks. Let's say Robert, a contact center agent accepted a chat interaction from a customer, and the customer informed them that they had interacted with Barry, another agent about an issue and would like to pursue the conversation with Barry; Robert can now transfer the chat interaction directly to Barry without transferring them to a queue first. Simply inform the customer about the intended transfer, check the status of the agent, and transfer for a quicker resolution. Learn more.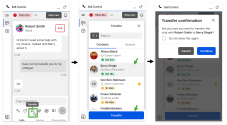 Localization support for
Persistent Connection mode

audio messages

Persistent Connection mode audio messages are now available in French and Canadian French. The audio messages that play when an agent attempts to establish a persistent connection will be heard in the language selected for the agent in Configuration Manager for contact Center.

Persistent Connection mode audio messages are available in the following languages:
English (US, GB, AU, CA)
French
Canadian French
Ability to view agents and assigned queues in Agent dashboard
8x8 Contact Center agents can now access the agent dashboard to view a list of available agents and queues in a single panel. To access the agent dashboard, click Show dashboard

from the top of the Control Panel. For more info about the agent dashboard, click here.
Ability to send outbound SMS messages
With this release, 8x8 Contact Center agents can send outbound SMS messages to customers with a few simple clicks. Previously, agents were only able to receive SMS messages. Agents can now select to send an SMS from the Control Panel or, if engaged in a call with a customer and they want to share some info with them via SMS, the agent can select the SMS icon from the call control panel. For more information on sending an outbound SMS, click here.
Ability to switch sub-status
Agents can now switch from one sub-status to another. A sub-status, also referred to as a status code, indicates the reason for taking break or working offline state, such as "lunch break" or "in a meeting".
Let's say you are working offline to attend a meeting. Once you are done with the meeting, you want to continue to work offline, but now to prepare meeting notes. You can now switch the status code without switching your status.

Enhanced filtering in contract directory
In this release, we are introducing filtering enhancements to help make finding your contact center and back-office colleagues even simpler and more convenient. Filter the list by agent group, presence status, department, job title, location, etc. For more information about the filtering capabilities in contact directory, click here.
Ability to filter favorite queues
Agents can filter queues from the queue information panel in agent dashboard. The same queue filtering capabilities are also available in My assigned queues.
Let's say Pat is a supervisor for multiple queues. During high-traffic hours for the Contact Center, Pat must focus on chat interactions. To quickly find the chat queue, Pat can click Show dashboard

and manually search for the chat queue she is a supervisor for. To find out more about filtering queues, click here.
Ability to filter favorite agents
Agents can quickly filter favorite agents by toggling on the Show only favourite agents option from the agent dashboard .
To filter favorite agents:
Log into your

8x8 Agent Workspace

account.
Select

Ready to work

or

Work Offline

.
Click

Show dashboard

from the top of the

Control Panel

.
From the

Groups

section, click .
Click the search filters icon.
Toggle on Show only favourite agents
The list only displays the agents you have previously added as Favorite.

To find out more about filtering contacts, click here.
Introducing
8x8 Agent Workspace
In early 2022, 8x8 Contact Center introduced 8x8 Agent Workspace which offers a streamlined experience for all agents. This highly intuitive interface streamlines customer interactions while delivering a simpler, more efficient, and more engaging way for agents to keep productivity high and customer experiences powerful. This clean new interface allows agents:
To process interactions and manage their routine tasks with ease
To focus on the task at hand by minimizing distractions
To collaborate and engage with other agents and experts quickly
To handle customer interactions more efficiently and effectively
For enhancements introduced prior to this release, see our content on previous releases.