What's new in the
8x8 Work for Desktop

7.18 release?

We are introducing the following enhancements and changes of the 8x8 Work for Desktop7.18 release:
Optimization for Citrix for 8x8 Work for Web app
8x8 Work for Desktop now offers support for Virtualized Desktop Infrastructure (VDI), enabling you to use your own computer's audio devices for calls in an 8x8 Work for Desktop instance running on a virtual machine! When 8x8 Work for Desktop on a virtual machine successfully connects to your computer's audio sources, the Computer audio option in the Call using

panel changes to read Computer - VDI.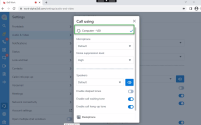 Notes: Now, the optimization for Citrix:
- Is available through the Citrix Workspace desktop app as well as through the Citrix Workspace web app.
- Is available on 8x8 Work for Desktop as well as 8x8 Work for Web.
- Applies to audio for two-way calls, but not to conference calls or meetings
Enhanced call park experience
When you are on 8x8 Work for Desktop, and your receptionist from 8x8 Frontdesk parks a call for your extension, now you can pick up the parked call much quicker. Once the call is parked, you are notified through a banner notification that there is a call waiting for you, on the announced call park extension. Simply, click Retrieve on the banner to retrieve the call parked for you. The notification also displays the caller ID or name.
Note: Only you can retrieve a call parked for your extension.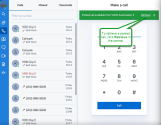 Ability to enable/disable call waiting tone
8x8 Work for Desktop now allows you to toggle the call waiting tone on/off.
While you are on a call, you may receive multiple calls at a time. The call waiting tone informs you at regular intervals of incoming calls. If you find this tone distracting, and you do not rely on audible incoming call alerts, you can now select to toggle off the call waiting tone.
To access this option:
Click

Call using

and select to toggle on/off

Enable call waiting tone

.
Click Settings > Audio & Video and select to toggle on/off

Enable call waiting tone

.
By default, the Enable call waiting tone toggle is On, but you can disable it anytime.
Enhance access to the results of the network connectivity test
You can test the strength of your network ahead of an important call or a meeting by running a network test via Settings > Network connectivity. In this release, we allow you to access the test details that are not obvious.
Select a specific network test instance from the list of tests, and click > to view the details.
For details on features introduced prior to this release, see our list of previous releases.
---