Place and receive calls
8x8 Work for Desktop enables you to quickly and flexibly place and receive calls, ensuring that your calling experience seamlessly adapts to your situation. Your call will be intuitive and easy to handle regardless of whether you are making or receiving a call, speaking with a company or external contact, or handling your call from one of several devices.
Place calls
There are several ways to place calls from 8x8 Work for Desktop, to suit where you are in the app at the time. Most of the time, you might place calls from your list of contacts or from the dial pad. By default, you make calls in 8x8 Work for Desktop using your computer microphone and speakers. However, you can dial from 8x8 Work but send the call through your desk phone, your headset, or another available device.
Note: While on a call, you can quickly switch between the audio devices available on your computer (such as an integrated speaker or paired Bluetooth headset) without the option to switch to your desk phone or an external device, as this would disrupt an active call.
To place a call from the contact directory:
Open your list of Contacts .
Go to

Favorite

,

Company

, or

My Contacts

.
Hover over the desired contact, and click the Phone option that appears to place a call.
To place a call from the dial pad:
Open your list of Calls .
Click Dial pad to bring up the dial pad.
Dial the desired number, or paste a copied number, to place a call.

8x8 Work for Desktop

ignores leading zeroes, spaces, and non-numeric characters (such as the parentheses in a US area code), allowing you to paste and dial E.164-formatted phone numbers.
Note: If your 8x8 Work for Desktop application window is large enough to support two panes of information side-by-side (also known as Expanded Mode), you can also see which country you are about to call.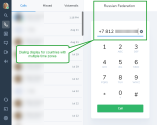 If a country has only one time zone, the local time of the country appears as well.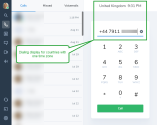 Receive calls
Note: If you are in an 8x8 meeting when you receive a call, the incoming call notification shows up without ringing audibly to avoid interrupting your meeting.
When you receive a call in 8x8 Work, a notification appears as a banner in the application (or pops up on-screen if enabled while the app is minimized) which displays the Caller ID and number, which number or queue you are being called on, and prompts you to accept or decline the call. You can:
Accept the call to begin speaking.
Decline the call to send it to voicemail.
In addition, if you are part of a ring group, auto attendant, or call queue, you also see whether you are receiving a call on behalf of yourself or your work group.


You can enable or disable your incoming call pop-up notification in your notification settings.