Review
Licenses
The license type you assign to a user determines the scope of available phone features such as basic calling to advance collaborative capabilities. Depending on your subscription, you can have 8x8 Work Licenses, such as basic, limited, and unlimited license, or VCC Licenses, such as a VCC agent with Expert Connect or X series.
Log in to 8x8 Admin Console and navigate to Home > Licenses to view the list of available licenses for your account, their description, and quantity. You can also see how many of the licenses are assigned to users.
We have organized the license list in three-level structure for easier consumption. Licenses are grouped by:
License type
License country
Detailed side panel
The details side panel displays:
License IDs
Who or what each license is assigned to
The service address associated with each license
Additionally, we allow:
Filtering by country
Searching by license ID
Filtering by license status (assigned/unassigned/suspended)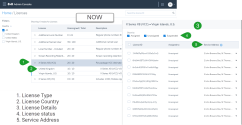 8x8 Work
Licenses
To our 8x8 Work users, we support two categories of licenses:
the following 8x8 Work licenses: 
8x8 Work

X Series: Includes X2 to X8 lincense types with access to varying product functionality. For latest info, check out https://www.8x8.com/x-series

8x8 Work

Lobby: Includes basic extension-to-extension calling and analytics capabilities.
Virtual Office Basic: Includes metered calling, softphone and analytics capabilities.

Virtual Office Editions: Includes unlimited calling, softphone, fax, SMS, meetings, analytics, integration capabilities, and more.

8x8 Contact Center
Licenses
For our 8x8 Contact Center users, we offer the following 8x8 Contact Center licenses: 
VCC Agent

:

8x8 Contact Center

Edition Users use this license to assign VCC agent privileges.

For Expert Connect services which allows your VCC agent to collaborate with experts in the team via 8x8 Unified Communication applications such as 8x8 Work for Desktop or 8x8 Work for Mobile, you must add an appropriate Virtual Office Editions service bundle f
For X Series users: Select an appropriate X series bundle which supports VCC services.
FAQ
Refer to the following frequently-asked questions for more information: