Note: This feature is available to all users. However:
-If you join a meeting by dialing in via phone, you have access to meeting audio but not video or screen sharing.
-If you join a meeting via your app or browser but have disabled video for your meeting via meeting video quality controls, you have access to meeting audio and screen sharing but not video.
For details on 8x8 Meet features available to different user types, click here.
Add video in meetings
Connect and collaborate face-to-face in an HD video and audio experience. 8x8 Meet detects the current active speaker, and displays their video in the main screen rather than in the secondary participant strip as they present or contribute in a meeting.
8x8 Meet supports 500 in-meeting participants; all participants who join via app or browser can also share their video if their connection strength permits it.
To share video in meetings:
By default, when you join a meeting with 8x8 Meet, your video is on. If your video is switched off, click or tap Start/stop camera

to start sharing your video.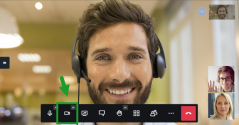 Note: If you start sharing video while already sharing on-screen content, your video appears as a smaller tile over the corner of your shared content.
If you're joining from a SIP device that supports viewing and sharing video, use your SIP device's usual controls to share and view video.
If you're sharing video from a mobile device, you can also toggle between your front-facing and rear-facing device cameras:
On

8x8 Work for Mobile

apps and

8x8 Meet

mobile app for Android: open More actions > More options to open a menu, and select

Toggle camera

.
On

8x8 Meet

mobile app for iOS: Tap Toggle camera in the control bar.