About
8x8 Meet

/

8x8 Meet offers you a flexible web and audio conferencing experience that turns ordinary phone calls into productive meetings. Access a personal meeting space that can be used to schedule or instantly launch meetings, dial-in access from over 50 countries, meeting streaming to an unlimited audience, and much more!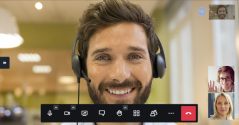 Audiences
8x8 Meet is available to the following types of users:
8x8 Meet

with

8x8 Work

: As a user in an organization that is an

8x8 Work

customer, access the full functionality of

8x8 Meet

!
Features in
8x8 Meet
Based on your user type, you have access to a different variety of features. For details on all features, see the feature lists for 8x8 Work and 8x8 Meet users!
| 8x8 Meet feature | 8x8 Work user |
| --- | --- |
| Unlimited free meeting access for up to 500 participants at a time | |
| Access to a personal meeting space | |
| Integration with your preferred calendar app | |
| Make your meeting more secure by setting a passcode, randomizing your meeting URL, or enabling a pre-meeting lobby room to screen incoming participants | |
| Access to a list of past meetings you attended, and meeting resources such as participant lists and audio transcripts | |
| Invite participants by copying and sending meeting details | |
| Invite participants via email address | |
| Invite participants by dialing out to their phone number or SIP device address | |
| Create or use meeting breakout rooms | (from browsers, desktop apps, and 8x8 Work for Mobile 10.14 and newer) |
| Enable a blurred or virtual background while sharing video with participants | |
| Record meetings | |
| Access meeting recordings on demand | (unlimited time) |
| View real-time audio subtitles in meetings | (in English) |
| Join a meeting via phone or SIP device call internationally | |
| Stream meetings live via YouTube | |
| Share on-screen content with participants | (from apps and desktop browsers) |
| Chat with participants publicly or privately | |
| Organize and participate in polls during meetings | (from desktop apps, 8x8 Work for Mobile, and browsers) |
| As a desktop app or browser participant, remotely control the desktop of a desktop app participant to walk them through a computer task they have a question on | (from desktop apps and browsers to desktop) |
| As a team leader or administrator, add your organization's branding to customize your meeting spaces | (as an 8x8 Work admin via 8x8 Admin Console) |
| As a team leader or administrator, control whether people outside of your organization can access in-meeting moderator settings. | (as an 8x8 Work admin via 8x8 Admin Console) |
| Empower the existing hardware of a conference room with 8x8 Meet capability via 8x8 Spaces | |
| Automatically access all people in your organization for communication and collaboration via 8x8 Meet | |
| Launch meetings from a chat with a contact or a group of contacts | |
| Promote phone calls to meetings | |
Note: If you are an 8x8 Work user but your organization does not enable creating or joining meetings in 8x8 Work for Desktop, you do not have access to meetings from within 8x8 Work.