Supported Expert Connect for multiple regions
8x8 Contact Center now supports Expert Connect for multiple regions. It allows agents to use the Directory tab to reach their colleagues and other 8x8 Work users within their entire multi-region organization. Prior to this release, Expert Connect was bound to a single customer's region such as US or Canada. Cross-regional chat between agents and other 8x8 Work users or Expert Connect was not available. To connect to other agents or 8x8 Work users across multiple regions, click the chat or phone button on the Directory tab. For details, see our document regarding Expert Connect and how you can send and receive messages with 8x8 Expert Connect.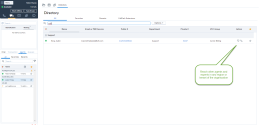 Limitation
The new improvement only applies to X Series customers who have access to both

8x8 Contact Center

and

8x8 Work

. Agents must have access to the Directory tab or Expert Connect in

8x8 Agent Console

in order to connect with other regions.
Multi-region chat with Expert Connect requires a one-time migration effort for bringing all the users under the same organization. Please contact your 8x8

Account Manager

or Professional Services to learn more.
The customer-to-agent and agent-to-agent chat from the Agent Status list only applies to a single tenant or region.