Introduced Users
The configuration of agents, supervisors, and administrators is now grouped under the Users tab in the navigation menu. This allows you to assign privileges of an agent and administrator to the same user, eliminating the need for separate login credentials. Use this tab to add users of all three types:
Agents
Administrators
Supervisor

While adding a user, you get to determine if the user is an agent or an administrator, or both. For an administrator, you can also select the desired role.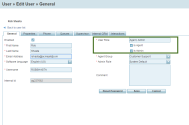 Change of Behavior
We have moved the function of creating and configuring administrators from the Security tab to the Users tab.
For a detailed review of changes in configuring users, refer to Changes in Configuring Users.