What's new in the
8x8 Contact Center

9.10 release for administrators?

We have introduced the following enhancements to improve the productivity of agents, supervisors, and administrators in our new release of 8x8 Contact Center.
Introducing
8x8 Contact Center

SMS

In this release, 8x8 Contact Center introduces communication via SMS inbound channels. SMS has become a popular channel of communication in customer service. Let's say customers of a car insurance company want to check their claim status or send related inquiries, they can simply send SMS messages to an SMS number published by the insurance company. These messages are routed via SMS channels and chat queues to agents, and offered to them as chat interactions for responses. Agents can look up customer records if the message is from an existing customer. They can look up outstanding cases and history of interactions to handle the conversation effectively.

For details, see our content about SMS channels and how to set them up.
Introducing agent whisper for phone queues
In this release, 8x8 Contact Center agents can now hear an audio message (whisper) about the context of the call they have dialed or received via a queue. Agent whisper is an audio file that can be uploaded and assigned by the tenant administrator to an inbound or outbound queue to inform the agent, upon connection, about the connected call. Let's say John serves support calls as well as sales calls. Upon receiving calls, the system plays a brief message stating if it is a sales or a support call. Agent whisper can be implemented for both inbound and outbound calls such as campaign calls. For details, see our content on how to create Agent whisper for phone queues.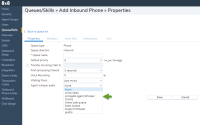 Transferring a chat interaction with contextual information
When your agents know who your customers are, what they're looking for, and what they've already spoken to another agent about, they can give better service, faster. Contextual information informs live agents so they can have more productive conversations while handling customer issues. 8x8 Contact Center introduces the ability to hand off the conversation with interaction details when transferring a live chat.
This feature is available to all agents by default. It does not require admin configuration. Learn more about how agents benefit from contextual information during chat transfer.
Intelligent routing of chat interactions based on customer data
Before initiating a chat interaction, customer information such as account numbers or case numbers collected via the pre-chat form, can now be used to determine routing of the chat interaction. You can now collect customer data, store them into system and user-defined variables, and use values stored in these variables to direct the interaction to the appropriate queue. This improves the efficiency of handling chat interactions.
Let's say your company wants to route interactions based on the customer language. Collect the preferred language choice in a variable, and use this data in the IVR to direct them to the appropriate language queue. Let's say your company wants to route interactions based on the department such as Sales or Support, you can collect this information during the pre-chat, and use it to route the interaction to the right queue.
Learn more about how to define custom variables and use them in chat channels.
These variables can be used to store data in advanced interaction routing involving external IVR. To learn more see our content on enhanced data augmentation.
You can also use variables to present personalized greeting messages based on the customer input. If the customer enters their name, then greet them by name.
Note: The variables are also supported in the Embedded Chat API.
Let's say your contact center has implemented the 8x8 web-chat solution. Your users log into the website so you already have information about the customer based on their account, e.g. language of the account or the browser language. You do not have to ask the customer for this information in the pre-chat form again. Use the 8x8 Embedded Chat API to post this information using variables. The contact center admin has to make sure to define the same name for variables in the IVR script as used in the API, to ensure routing based on this customer information.
Enhanced data augmentation
Data collected by external CRMs and third party integrations can now be used in a meaningful way. The data augmentation API allows you to tie data between external applications and call data. This facilitates greater resolution on what drives call volumes and handling times. Prior to this release, the two nodes: 8x8 IVR , and Forward to External IVR, have been limited in terms of data variables. To forward calls to an external IVR such as intelligent IVR, you need to forward an incoming call to the external IVR, assign a queue ID, check the queue ID in the phone script, and forward the call to the right queue. For details, see our enhanced data augmentation example workflow and the required steps to forward calls to an external IVR.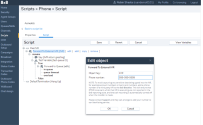 Announcing end of life for Support Center functionality
In this release, 8x8 Contact Center is retiring the Support Center functionality. Support Center previously offered communication channels and information services for your customers to reach your contact center agents and get help. We offered direct URLs to the default or custom Support Center which could be embedded in your company website.

In this release, access to Support Center functionality is not provided through Support Center, but through new tools and interfaces as seen below:
| Feature | Description | Access |
| --- | --- | --- |
| FAQ | FAQ was a repository of frequently-asked questions and answers for customers which was accessed via a user interface. | Use the CRM API to add, modify, get, delete, and list FAQs. For details, see our CRM API documentation. |
| Collaborate | Collaborate was a mechanism for agents to remotely access and control a customer's computer. | The control functionality is no longer available, however, the remote access and user guidance functionality is replaced by the improved Co-browsing feature to offer remote customer access. |
| Chat | In the Support Center, chat provided a user interface for customers to initiate a chat with live contact center agents. | We now offer chat, SMS, and social media channels with better chat workflow and design. For details about chat, see our documents for the Embedded Chat Channels. To take advantage of social media to service customers, such as Facebook and Twitter, see our guide about Social Media Integration. |
| Email | The Email functionality in the Support Center offered a user interface for customers to send emails to agents. | Customers can now publish the email addresses for support, as configured in the email channels on Configuration Manager. Or, implement their own email submission forms on their websites and forward them to the inbound email server as configured for 8x8 Contact Center. For details, see how to set up email channels. |
| My Account | My Account was a portal for customers to submit information requests or open cases and receive responses to requests. Customers could check the status of their cases, or close their cases using this portal. | We are no longer offering My Account, by default, for Local CRM. However, for more advanced implementations we offer the CRM API which can be used by Contact Centers to implement their own portal similar to My Account. For details, see our CRM API documentation. |
See our content on all Previous releases.