Note: 8x8 Frontdesk is available to receptionists who have been given access by their administrators.
About 8x8 Frontdesk
8x8 Frontdesk is a flexible and easy-to-use desktop-based application embedded in 8x8 Work for Desktop. It offers better call management capabilities for front desk receptionists, and improves their experience in handling a large volume of calls and needing to frequently transfer calls. It increases the efficiency of your organization with better phone call management, allowing callers to efficiently get in touch with your organization and enjoy the best possible customer experience.
With a few clicks, a receptionist can manage multiple calls, voicemails, and chat sessions, and direct communications to the appropriate contacts in their organization.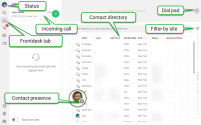 For more information, see what's new in 8x8 Frontdesk!
Features
With 8x8 Frontdesk, a receptionist can quickly and efficiently:
Manage up to ten concurrent calls, and take advantage of a flexible call handling system.
Transfer calls to contacts, or directly to a contact's voicemail if the caller needs to reach a contact who is temporarily unavailable.
Track the presence status of contacts to determine who is available for communication.
Add notes to contacts with important information, such as whether the contact asked not to be disturbed or is working from a different time zone than usual.
Cold calls to an auto attendant, or a call queue or ring group to help callers reach their destination during hours when a live receptionist is unavailable.
Chat and consult with a contact before transferring a call to confirm the contact's availability.
Manage voicemail received from callers or contacts.
Prerequisites
8x8 Frontdesk requires:
An X4 license
8x8 Frontdesk capability enabled in

8x8 Admin Console

version 1.29.1 or newer

8x8 Work for Desktop

version 7.11 or newer