Send Instant Messages
The 8x8 8x8 Work for Desktop provides Instant Messaging (IM) with your company contacts. You can chat with one contact or with multiple contacts, whether in the same conversation or separate conversations. You can type a message at any time, but for interactive messaging, both contacts must be online.
You can also view message history and export these conversations as text files.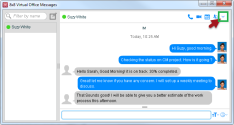 Note: Instant messaging is available to you if your phone system administrator has enabled IM.
Using IMs

See Also