Log in to
8x8 Work for Desktop
To access 8x8 Frontdesk, you must log into 8x8 Work for Desktop. If a user is enabled with 8x8 Frontdesk functionality, then the app displays an additional Frontdesk

tab for receptionist privileges.
On your computer, download and install the

8x8 Work for Desktop

app.
Launch the app to log in.
Enter your username and password.
<![CDATA[ ]]>
Click

Login

. The app launches.
From the navigation menu, select Frontdesk to access the receptionist functionality.
Note: You can also use receptionist functionality using your activated deskphone. To switch to call using deskphone, click the Call Using

menu in the navigation bar and select Deskphone

to place and receive calls using your deskphone.
Tour the interface
The 8x8 Work for Desktop interface offers abilities to access your contacts, place and receive calls, chat with contacts, attend video meetings, and more.
The 8x8 Frontdesk feature allows receptionists to receive calls and route them to the desired contacts within the company.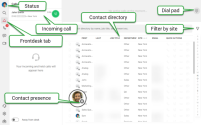 <![CDATA[ ]]>
Frontdesk tab

: Access the

8x8 Frontdesk

functionality.

Status icon

: Set your presence status and other preferences.

Incoming calls

: View an incoming call with callee details and greetings.

Dial pad

: Dial numbers to call outside of your contact list.

Contact directory

: Lists and sorts contacts within your company directory. The directory includes a mobile number column.<![CDATA[ ]]>

Search contacts

: Search for contacts based on name, site, extension, and more.

Filter by site

: Filter contacts based on site, and select the desired information columns to show in the

contact directory

.

Contact presence

: Know whether a contact is available, busy, or offline.
Set your presence status
Use your profile to set your status and other desired settings.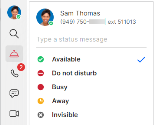 Available

: Available for calls and chats

Do not disturb

: Busy, and forwards incoming calls to voicemail

Busy

: Busy, but available for calls and chats

On a call

(status set automatically): Busy on a call or in an 8x8 meeting

Away

: Away from their desk or inactive for some time

Invisible/Offline

: Appears as offline
View presence status of contacts in the contact directory. You can view whether a contact is available for communication.
Forward calls during a break
If you need to step away from the desk, simply select the toggle for Away from desk at the bottom left hand corner of the app. Select to forward the calls temporarily to an auto attendant, a ring group or call queue. When you return, simply disable this option.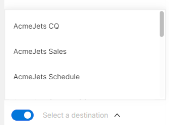 <![CDATA[ ]]>