Confirm your
ServiceNow

configuration

Your active configuration should be listed in theraOpenFme Configurations display with the width and height of the telephone icon.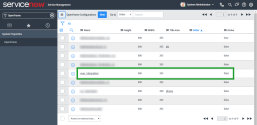 To confirm ServiceNow configuration:
Click the Phone icon to confirm successful integration. The Virtual Office control panel pops up.

Important: If you are on Chrome and do not see Virtual Office for ServiceNow, verify whether you have configured Chrome for the integration.

After you log in to the integration, click the

Settings

icon to confirm the integration is active. The list of associations displays.