Overview of multiple chats
Your 8x8 Contact Center administrator can configure each agent to handle up to six chats with customers, and an unlimited number of chats with other agents of the same tenant. These settings determine your multi-chat capability.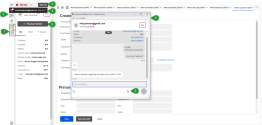 Agent

Agents use the Agent Console to view and manage customer interactions. Virtual Contact Center supports Regular agents and Supervisor agents.

-to-agent chat interactions
Customer chat interactions
Stop receiving new interactions
Customer SLA
Pop chat window back in to the

Control Panel

Chat window (popped out)
Features
Manages concurrent chats with multiple customers and agents.
The chat list of customers and agents provides easy access to chats in progress.
The chat list is sorted primarily based on waiting time. The longest-waiting chat is placed on top of the list.
Icons differentiate customer-to-agent chat from agent-to-agent chats.
Icons highlight unread chat messages.
Icons indicate customers waiting for an agent's response.
Icons send visual alerts if customers are waiting longer than the SLA.
A pop-out chat window improves handling of multiple chats.
Relevant customer records pop up when accepting chats.
Customer information such as email, name, and IP address is displayed in the pop-out chat window.
Tracks messages from new customers via Transaction ID.
Searches agent-to-agent chat list by name.