Announced end of life for Support Center functionality
In this release, 8x8 Contact Center is retiring the Support Center functionality. Support Center previously offered communication channels and information services for your customers to reach your contact center agents and get help. We offered direct URLs to the default or custom Support Center which could be embedded in your company website.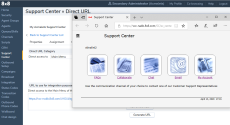 In this release, access to Support Center functionality is not provided through Support Center, but through new tools and interfaces as seen below:
Feature
Description
Access
FAQ
FAQ was a repository of frequently-asked questions and answers for customers which was accessed via a user interface.
Use the CRM API to add, modify, get, delete, and list FAQs. For details, see our CRM API documentation.
Collaborate
Collaborate was a mechanism for agents to remotely access and control a customer's computer.
The control functionality is no longer available, however, the remote access and user guidance functionality is replaced by the improved

Co-browsing

feature to offer remote customer access.
Chat
In the Support Center, chat provided a user interface for customers to initiate a chat with live contact center agents.
We now offer chat, SMS, and social media channels with better chat workflow and design. For details about chat, see our documents for the Embedded Chat Channels. To take advantage of social media to service customers, such as Facebook and Twitter, see our guide about Social Media Integration.
Email
The Email functionality in the Support Center offered a user interface for customers to send emails to agents.
Customers can now publish the email addresses for support, as configured in the email channels on Configuration Manager. Or, implement their own email submission forms on their websites and forward them to the inbound email server as configured for

8x8 Contact Center

. For details, see how to set up email channels.
My Account
My Account was a portal for customers to submit information requests or open cases and receive responses to requests. Customers could check the status of their cases, or close their cases using this portal.
We are no longer offering My Account, by default, for Local CRM. However, for more advanced implementations we offer the CRM API which can be used by Contact Centers to implement their own portal similar to My Account. For details, see our CRM API documentation.