Access Digital Channels report
In this release of Customer Experience, you can access reports for digital channel interactions. The Digital Channels report expands the existing capabilities to report Voice media by introducing analytics for the following digital channels:
Chat

Chat API

Facebook

SMS

Twitter

Web Chat

WhatsApp

Email
Additionally, the report offers a graphical view of the complete digital interaction journey from the time it enters the contact center until the time the interaction is terminated.
Let's say as a supervisor, you want to see how many calls have been rejected by agents during the busiest week of the trimester. You can easily filter the database for interactions that had the call outcome Rejected during a specific data range. You can preview the interaction flow for each interaction or you can download the report data, which also lists the totals for the metrics, and share it with the relevant people.
To access Digital Channels, click

from the top left-hand side of the Customer Experience application.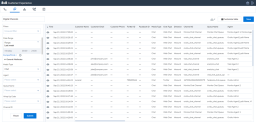 Access restrictions to Digital Channels report
Access to the Digital Channels report may be restricted for certain users. The following table lists the access granted to users: