NetSuite
Single Sign-On
8x8 Contact Center integration with NetSuite Single Sign-On and (SSO) capability allows a user of NetSuite CRM to enter 8x8 Contact Center via NetSuite website, eliminating the need to remember or enter 8x8 Contact Center user credentials. The user presents the authentication information only once per session. NetSuite's Single Sign-On eliminates the need for a separate login for 8x8 Agent Console.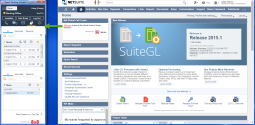 Notes:
- There is no iframe for this release. 8x8 Contact Center appears in a separate window.
- SSO is the only option for new customers. The existing customers cannot go back to non-SSO once it is selected.
Features
Easy installation using SuiteBundler.
SuiteSignOn for time saving convenience and secure

Single Sign-On

.
Improved security;

NetSuite

user credentials and password are not stored in user interface.
Enhanced user experience; users can seamlessly sign in to

8x8 Contact Center

from the

NetSuite

dashboard without the need to remember or enter

8x8 Contact Center

user credentials.

Full functionality of

8x8 Contact Center

and

NetSuite

.
No need to refresh

8x8 Contact Center

while using

NetSuite

.
Limitations
We can associate only one 8x8 Contact Center tenant with each 8x8 Contact Center Suitebundle. Contact 8x8 professional services for the available workaround.
Requirements
You must have NetSuite SSO enabled for your NetSuite account to proceed with the installation. In order to enable SSO, contact the NetSuite support team at www.netsuite.com.
To learn how to install and configure NetSuite SSO, refer to the NetSuite SSO Installation Guide.

See Also