Configure
Local CRM
The Local CRM (or Customer Relationship Manager) in 8x8 Contact Center gives you the ability to manage customer and case data. Use the CRM page in Configuration Manager to define the Customer and Case fields to identify and characterize interactions. For your contact center, you have the option to use Local CRM or a third-party CRM such as Salesforce or Zendesk with VCC supports out of the box.
You must select either the Local CRM or a third party integration for case and contact management. Both cannot be used together.
Features
Manage customer and case data in your contact center using the

Local CRM

. It is perfect for organizations that do not already use a CRM.
Deliver screen pops of critical customer information to make every agent interaction more efficient.
Solve customer problems more quickly and increase customer satisfaction.
Integrate and combine information from other software and sources in the same screen.
Define custom fields in the CRM to suit the needs of your organization.
To configure Local CRM, click CRM in the Configuration Menu. In the Fields tab, the Predefined column identifies the default set of customer and case fields.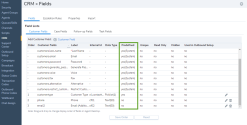 Configuring Local CRM involves:

See Also