Define search criteria to filter campaign call list
An 8x8 Contact Center campaign call list can be filtered based on a custom search query. 8x8 Contact Center administrators can define a query and generate a custom call list based on specific CRM fields and values under the CRM object. Let's say you wish to filter only customers with last names between A and L, use the search criteria to get the filtered list.
The 8x8 Configuration Manager filter option allows you to define a custom search query. You can validate a query by running the test query.
Note: You cannot alter a campaign filter after initiating the campaign.
To define search criteria for a campaign:
Click the

Search

tab for a campaign.
Select a field name from the drop-down list and enter a value. You can nest multiple search criteria to create a complex query.
Click to nest search criteria. Let's say a complex query retrieves customer records with <Credit Rating greater than 700>, <Expense in the last 6 months greater than 30000>, <Expense in the last year greater than 100000>, and <Income Range between 3 and 4>.

Click

Test

to validate the search criteria. If the test passes, you have defined a valid filter. If the test fails, check for any errors and redefine the filter.
Click

Save

.
Filter campaign lists based on Do Not Call preferences
While creating a campaign filter, you can filter those numbers from Local CRM records that are registered with the Telephone Preference Service (TPS) and Corporate Telephone Preference Service (CTPS), to be compliant with TPS and CTPS. This feature is currently supported for UK phone numbers, but will be extended to other countries in future releases.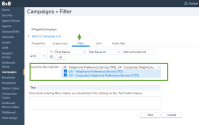 This feature helps customers to be TPS/CTPS compliant, but does not guarantee it. Customers are responsible for their own compliance. It is recommended not to run campaigns longer than 28 days.
Note: The Telephone Preference Service (TPS) is a UK register of domestic telephone numbers whose users have indicated that they do not wish to receive sales and marketing telephone calls.
Note: The Corporate Telephone Preference Service (CTPS) is a list of organizations (limited companies, public limited companies and Scottish partnerships) who have registered their wish not to receive unsolicited direct marketing calls.
To filter campaign list based on Do Not Call lists:
Log in to

8x8 Configuration Manager

.
Open

Campaigns

and select a campaign from the list, or click

Edit

.
Go to the

Filter

tab.
Make sure

check Do Not Call lists

is selected.
Click

Test

to check your filter criteria.
For details, see our content on how to define campaign search criteria.

See Also