Scheduled Report New
In Virtual Office Analytics 2.0.3 release, we have introduced an enhanced version of scheduled reports which will allow you to schedule Extension Summary and Call Detail Records (CDR

Call Detail Record includes call details such as point of origin,end point, call direction, call duration, and more.) reports. The new enhanced scheduled report offers you the flexibility to:
Schedule and generate reports at a user-specified timezone
Deliver the report via email as CSV or PDF attachments
Email the report as often as the user wants - daily, weekly, monthly, first day of the week, or the first day of the month and more.
To access the new scheduled reports, click the header menu next to your name. From the drop-down list, select Schedule Report Emails (New).
.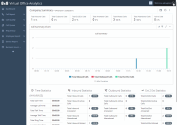 NOTE: The new scheduled report does not support scheduling Company Summary reports.
Scope
The new Schedule Report supports Extension Summary reports and Call Detail Records reports. In this release, we do not support the company summary report.
Features
Custom timezone for the scheduled report

: Select your preferred timezone for the scheduled report and no longer be tied to the PBX

Private Branch Exchange—a private telephone network used within a company.

timezone.

Ability to reactivate reports: You can now reactivate reports which you have marked as inactive. Marking a report inactive stops generating and delivering the report to the scheduled recipients.

Simply click to mark a report inactive. Once marked, the report gets listed in the Inactive tab.

To reactive a report, click . Find it in the Active tab.

Improved accessibility of Cross-PBX CDR reports: Scheduling CDR reports across PBXs is now enabled within the scheduled report. You do not have to enable it under Settings anymore.


Report date range

now allows you to generate reports for yesterday, last 7 days, last 30 days, and last month.

Email Frequency

: Allows you to schedule reports via email daily, weekly, monthly, first day of the month, and Monday- Friday. These options come in handy to meet your reporting needs. You can also specify the start and end date for receiving the scheduled reports.
Ability to email scheduled reports to unlimited recipients: You can now email the scheduled report to any number of recipients. Simply enter a valid email address and hit enter.
Add custom email subject and message: Use the default subject or add a custom subject and write a brief message to be sent to the recipients for better user experience.
Attach reports as PDFs: You can now choose to email reports as PDF files, CSV files, or in both formats. The user-friendly PDF format provides quick insight into top incoming calls by extension, site and department..
Updated security: The email will continue to include a link to access the report, which will now expire after seven days. Additionally, the email will now include the report as an attachment, provided it does not exceed 6mb in size. Archived reports will continue to be available in VO Analytics.
Use cases
Here are some use cases that demonstrate the improved usability of the new scheduled reports.
Use case 1
Bob, a site supervisor for Acme Lumber's Denver office, needs to include call data from VOA Extension Summary report in his weekly status report each Friday. Instead of logging in to VOA each week, Bob schedules a Scheduled Email that will generate a weekly Extension Summary report, each week beginning this Friday, for the previous 7 days, using US/Mountain time zone (his corporate office is on CA, so his PBX's Analytics default time zone is set to US/Pacific), and sets a filter that limits the data for that report to 'Site = Denver'. Each Friday Bob will receive the report he needs, already limited to the data he cares about, presented in the proper timezone.

Use case 2
Susan, the VP of Acme's Support department, is located along with her team in NY, and on weekday mornings she needs to see Call Detail Records for all inbound calls from the day before, so that she can work with her team to optimize coverage. Susan schedules daily Call Detail Records reports, scheduled for M-F, and uses filters for 'Department = Sales' and 'Direction = Inbound', using the US/Eastern time zone. Each weekday morning she will have the details she needs in her Inbox.

Use case 3
Fred, the Sales team admin at Acme, needs to provide weekly updates to the senior Sales executives regarding call activity for his Inside Sales and Outside Sales departments, but only needs to share Inbound Call rankings by Extension and by Department, and doesn't want to have to download the detail and prepare an easily-consumed custom report for them each week. Instead Fred schedules an Extension Summary report, using the PDF-only option, applying 2 department filters (Inside Sales and Outside Sales), and including the sales team' group email address on the To: field. Each week the sales executives will receive a PDF report that includes Top Inbound Calls by Extension, Department and Site for his team, and it will be attached to the email and will not require any VOA authentication.