Enhanced Company Summary (beta)
In Analytics for 8x8 Work, with the enhanced Company Summary report in beta, you can now enjoy:
Easier and faster reporting
More flexible metric comparisons
Easy access to relevant call records and call legs
To access the Company Summary beta report, go to Call Report > Company Summary (Beta) from the menu.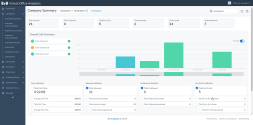 Improved Date Picker
Reports on the new analytics platform (Call Detail Records, Company Summary (beta) and Extension Summary (beta) now share the same Date Picker, which enables the date range selected to be retained across those reports for that login session. Pick your date range once and simply run all new platform reports without having to pick your date range each time. Let's say you run all your reports Monday to Thursday weekly, select your custom date range in one report and retain it across all other reports for that session.
Easier Access to Cross-PBX Reporting
If your company runs a multi-PBX

Private Branch Exchange—a private telephone network used within a company. phone system, gathering call data across all the PBXs now just got easier! In the header of our new reports, you can now choose which PBX you want to report on with a simple pull-down selection.

Interactive Charting
Select the desired metrics to track and customize the dashboard to suit your business needs.
Integrated access to the Call Detail Records
As you are reviewing Company Summary or Extension Summary reports, where you may be reviewing a particular date range and/or applied filters, you may want to dig deeper and review the specific call details of calls being summarized. Previously you had to visit the Call Detail Records report and search once again for this data. Now, you can choose to view or download the detailed call data, either as Call Records or Call Legs for the displayed summary - without exiting the Company Summary or Extension Summary reports.