Share Wallboards
Using the readily available dashboard or custom dashboards, you can project your contact center dashboard data on a big screen TV in your contact center floor with just a couple of clicks. For example, view the queue summary stats in real time, past 15 minutes, or for the entire day, and share it with others. While sharing, you can specify the screen size and optimal viewing distance.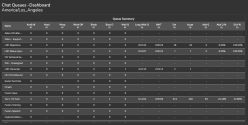 Features
Provide valuable metrics to your call center agents as they work.
View real-time metrics to display the latest information on call center service, or change the time range to the past 15 minutes or the past day to give a more complete picture of call center activity.
To share a wallboard:
From the list of dashboards, click next to the desired dashboard, select

Share Dashboard

from the menu.
In the following screen, click next to the shareable wallboard link.
Set the wallboard background color to either light or dark, and set the viewing distance (in feet).
Enable or disable the following options as desired:

Hide wallboard title
Hide timezone
Hide widget headers

Click

Done

.
Ability to adjust display font size of wallboards
With the new enhancement, you can adjust the font size of wallboard data directly from the wallboards. Simply click the edit icon on the top right corner of the wallboard to adjust the font size to suit your preferences.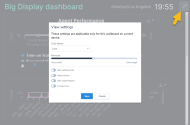 Note: The font size changes:
- Apply to the wallboard being edited only.
- Available to this user and on the selected browser only.
- Remain set indefinitely until edited.

Flexibility to view more data
To accommodate more data in the available wallboard space and to optimize the real-estate of the dashboards, we have introduced the option to display data in a compact view. With the compact view option, you can fit more data on the wallboards. When enabled, this option reduces additional space between the rows and displays more data within the available screen space.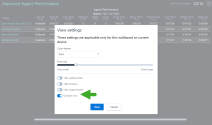 You can also enable the compact view option in the dashboard view within the 8x8 Analytics for Contact Center application. It reduces the space between the widgets in the dashboard.