Note:
-The ability to view shared content in a meeting is available to all video-capable users, but only users joining via app or desktop browser can share their on-screen content.
-The ability to share Youtube videos is available to all users.
For details on 8x8 Meet features available to different user types, click here.
Share on-screen content in meetings
8x8 Meet enables you to enhance your meeting experience by sharing on-screen content or sharing a YouTube video! The collaborative nature of 8x8 Meet leaves content sharing open to all participants.
Share full screen or application window
Only participants joining via app or desktop browser can share their on-screen content, but all participants can view content shared by others.
To share on-screen content in 8x8 Meet:
In a meeting, click Share screen to open a list of screens and windows that are available for you to share. If you are joining via your mobile app, tap More actions first to see this option.


Note: If you are sharing a PowerPoint presentation or similar content from desktop, choose to share your entire screen so your slides refresh properly.

Note:
-If you are sharing your screen via mobile, your full screen is shared automatically, and you cannot limit what portion of the screen is shared; other participants see everything you see on your mobile screen while you are sharing.
-All notifications that show up onscreen are also visible to other participants.

If sharing from mobile, your entire screen is shared.
If sharing from desktop, select the desired screen, window, or tab, and confirm. Depending on your desktop browser if you join via web, you may have the option to share a specific tab rather than your entire browser window. In addition, depending on where you are joining from, you may have the ability to share your system audio with your full screen or browser tab.

Your actions in the specified area are displayed to everyone in the meeting until you stop sharing by toggling Share screen again.
Notes:
- While in a meeting, and you are sharing on-screen content in meetings, two separate tiles displays, one for the avatar (or camera if the camera is toggled on), and one for the content share.
-This behavior is more visible in the 'tile' view, as in the 'stage' view, the 'content share' tile is in focus.
- For a better visualization of the video or of the screen share, drag the handlebar on the edge of the filmstrip to resize it.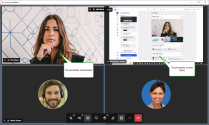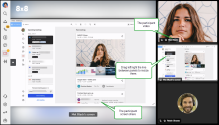 Share YouTube video
Let's say a Marketing representative wants to share their latest promotional video, or you want to share a helpful how-to video with your team; as a participant joining via app or browser on desktop or mobile, you can now share YouTube videos in a meeting without needing to share the rest of your screen!
To share a YouTube video in a meeting:
Click or tap the More actions menu to open a menu of advanced meeting controls and options.
Your browser does not support the video tag.
From the menu, click or tap

Share a YouTube video

to open a URL entry box.
In the entry box, enter the URL of the YouTube video to share, and click

Share

or tap

Ok

to confirm. When you confirm, the video displays in the meeting to everyone, and you are able to use the usual YouTube video controls to pause, play, and rewind the video.
When you are finished with the video, click or tap the More actions menu again.
From the menu, click or tap

Stop sharing YouTube video

to remove the video from the meeting display, and confirm at the prompt that pops up.