Set Default Forwarding Rules
The default call forwarding rules direct inbound calls to the extension user's voicemail when the user's network is down, the user's phone line is busy, and when calls aren't answered for a certain number of seconds. You can change this call forwarding treatment as desired by editing the default rules.
To access the default Call Forwarding rules:
Click
Go to

Call Forwarding > Default Rules

.
The

Default Rules

page opens.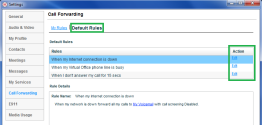 You can change your default call forwarding rules for the following three scenarios:

When the network is down
When the phone line is busy
When the call isn't answered quickly enough

Click

Edit

next to your chosen scenario, and choose the default forwarding behavior:

Drop a call, and the caller hears a busy signal.
Forward calls to any or all of the specified numbers that you enter into a list.

Note: If you list multiple numbers, select the ringing pattern; Sequentially or Simultaneously.

Forward calls to voicemail, auto attendant, ring group, call queue, or another number after trying to reach all the phone numbers you have listed above.

Click

Enable Call Screening

to enable this option on your call forwarding destinations when your network is down.
Click

Save

.