Handle calls
With 8x8 Frontdesk, a receptionist can manage up to ten concurrent calls.
Receive calls
When you receive a call, the Call Panel area shows the incoming call.
Click to accept the call.
After speaking with the caller, select one of the following options:

Transfer the call without consulting (cold transfer).
Consult via call/chat and transfer the call (warm transfer).
Transfer to voicemail.
Drag and drop a contact onto the active call to initiate the transfer and transfer to voicemail.
Initiate a chat with the person on the call directly from the call card by clicking the

Chat

icon.
Silence incoming calls
As a receptionist, you may need to juggle multiple tasks at the front desk, receiving and directing calls, attending to guests in person, and more. It helps if you can silence an incoming call and minimize the noise, while you are busy attending to another task. In this release, we are introducing the ability to silence incoming calls.
Here are classic scenarios where silencing incoming calls may come in handy:
Frontdesk employees at a hotel reception need to greet guests in person while at the counter. As they cannot decline incoming calls, the calls keep ringing and the noise may disrupt the focus of other receptionists who may be busy on other calls.
When receptionists notice incoming spam calls, they do not want to waste time by answering them. As they cannot decline calls on 8x8 Frontdesk, the ringing noise from these calls may be disturbing.
With the ability to silence incoming calls, you can be more efficient on the job. If you receive an incoming call when busy, click the

icon on the top right corner of the calling list to silence the call. You will stop hearing the ringing, allowing you to focus on the task at hand. Once you are free, simply click

to answer the call.
Note: Silenced calls stay silent until the next incoming call. With every new incoming call, the silenced calls resume ringing. You need to silence the ringing calls again.
Deflect calls
Let's say you receive calls from a caller who typically wishes to speak to a specific contact. If you know the destination of an incoming call, simply drag and drop the contact record from the directory to the incoming call card. Click

for a cold transfer. The call is transferred to the selected contact.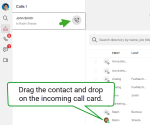 Record calls selectively
You now have the ability to record calls selectively. If you are on a call and you are required to record the conversation, you can immediately start recording the call.
To start/stop recording a specific call:
From the active call card, click , and select

Record

.
To stop recording the call, click , and select

Stop Recording

.
You can access your recording from the Call Recordings

tab.
Note: The caller is notified that the call is recorded, and a recording indicator is visible on the call card.