Open emails
When you open an email in Gmail, the Communication Panel automatically searches contacts based on your settings. Through Virtual Office for G Suite, you can see:
Information from the Google directory.
The availability status according to

Google Calendar

(assuming you have basic access to viewing their free/busy calendar status).
Your next meetings with the person based on your calendar.
Any matching contact records from Salesforce if you are also logged in to Salesforce.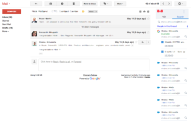 To perform the searches for someone else in the email thread, simply select the People in this thread drop-down and select the email address you'd like to search. Note that we do not expand group addresses.


While reviewing the search results, you can click the Search

icon to open the matching record in a new tab. For Salesforce, we take you directly to the matching contact record. For G Suite, we open a new tab with your email filtered to the address.