Overview: 
8x8 Contact Center for ServiceNow
8x8 Contact Center for ServiceNow integration brings your enterprise phone communications directly into your ServiceNow dashboard. You can interact with your customers via phone, email, or chat from your ServiceNow implementation without having to switch to another communications or messaging app.
When you receive an inbound call, the integration is able to determine if the caller is an existing ServiceNow user by searching your ServiceNow database. If a match is found, the corresponding caller record pops up on your screen enabling you to reference historical information during your telephone conversation. Incoming customer chat messages also feature this same type of functionality.
When you place an outbound call, an existing user match in the ServiceNow database is displayed. You can reference historical information about your interactions with the call recipient in order to better inform your conversation.
The ServiceNow Incident Report (or call log) enables you to input all the important notes and information which you have gathered during your communications with the user. By integrating with ServiceNow, you can use 8x8 Contact Center call or chat features.
Features
Using 8x8 Contact Center for ServiceNow, you can:
Navigate an intuitive interface that provides you with enhanced functionality to facilitate customer interactions.
Use multimedia channels which feature phone, chat, and voicemail for communications flexibility.
View

screen pop

for inbound and outbound calls.
Record calls so you can assign communication details to another agent (if necessary) or add additional information.
Use skills-based agent routing so that customers are directed to the representative who can best address their issue.
Access real-time queue status and agent presence to manage customer interactions.
Use

click-to-dial

directly from the dashboard.
Communicate using integrated chat channels. You can then log chat transcripts as a task and associate them with either a new or historical CRM record.

Perform warm/cold call transfers between agents. This feature is only available in Agent Workspace.
Requirements
Login access to 8x8

8x8 Contact Center

Login access to a

ServiceNow

full administrator account
Note: Select Developer and the developer oriented IDE as the user role for a successful installation of the 8x8 Contact Center for ServiceNow.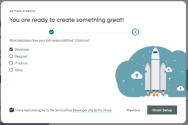 Note: If you intend to use Google Chrome with the integration, 8x8 recommends configuring the Chrome browser settings to allow pop-ups and to also whitelist the 8x8 cloud domain URL.
Familiarity with 8x8 Contact Center is recommended. For more information, refer to the following guides:
Supported CRM objects
8x8 Contact Center for ServiceNow integration supports the Users CRM object.
Before you begin
8x8 recommends using the Google Chrome browser for your integration. You must configure the Chrome browser settings to allow pop-ups and to also whitelist the 8x8 cloud domain URL.
To configure Chrome for the integration:
Go to Chrome browser settings.
Search for pop-up settings and select the

Pop-up and redirects

setting.
Click

Add

and enter <https://cloud8.8x8.com> to the list of allowed sites.