What's New in the
8x8 Contact Center

9.10 Release for supervisors?

We have introduced the following new enhancements to improve the productivity of agents, supervisors, and administrators in this new release of 8x8 Contact Center

A contact center that enables agents to be located in different geographical locations yet managed as if they were located in the same physical location.. For details on the entire list of features, see our 8x8 Contact Center Release Notes.
Introducing
Agent whisper

for phone queues

In this release, 8x8 Contact Center agents can now hear an audio message (whisper) about the context of the call they have dialed or received via a queue. Agent

Agents use the Agent Console to view and manage customer interactions. 8x8 Contact Center supports Regular agents and Supervisor agents. whisper is an audio file that can be uploaded and assigned by the tenant administrator to an inbound or outbound queue. Agent whisper informs the agent, upon connection, about the connected call. Let's say John serves support calls as well as sales calls. Upon receiving calls, the system plays a brief message stating if it is a sales or a support call. Agent whisper plays an uninterrupted prompt for the agents. The whisper can be talked over by both parties. It can be implemented for both inbound and outbound calls such as campaign calls. For details, see our content about Agent whisper for phone queues.
Introducing
8x8 Contact Center

SMS

In this release, 8x8 Contact Center introduces communication via SMS inbound channels. SMS has become a popular channel of communication in customer service. Let's say customers of a car insurance company want to check their claim status or send related inquiries, they can simply send SMS messages to an SMS number published by the insurance company. These messages are routed via SMS channels and chat queues to agents, and offered to them as chat interactions for responses.

As 8x8 Contact Center supervisors, you can monitor traffic in chat queues, which handle SMS interactions. From the Supervisor

An agent with the supplementary privileges required to create FAQ categories and answers, monitor agent interactions in progress, listen to recordings of previous interactions, and create reports for the agents groups they supervise. Console, go to Menu > Monitoring. Under Queue

A queue is an ordered collection of interactions waiting to be served by agents qualified to respond to these interactions. In addition to enabling the call center administrator to customize how incoming interactions are prioritized and routed, queues also ensure that interactions are never lost or discarded. Monitoring, check out the number of interactions entered, accepted, rejected, or abandoned by an agent for each queue, including the chat queue that processes SMS interactions. This data is available in real time, for the past 30 minutes, and for the day.
Learn more about monitoring SMS interactions metrics.
Monitor transferred chat interactions
As an 8x8 Contact Center supervisor, you want to track how efficiently chat interactions are being handled by agents. When agents transfer interactions, you want to understand the reason for transfer, was it transferred to the right department? Did the agent ask all the right questions before transferring? Did the agent accepting the transferred conversation receive all the necessary information to handle the chat? Get answers to all your questions in your Monitoring tool.
Learn more about contextual information in chat transcripts.
Release 9.9
We have introduced the following new enhancements to improve the productivity of agents, supervisors, and administrators in this new release of 8x8 Contact Center. For details on the entire list of features, see our 8x8 Contact Center Release Notes.
Introducing the Answer Machine Detection (AMD) Service
In 8x8 Contact Center when the dialer is used in its aggressive mode, it can call more numbers than available agents, to maximize agent efficiency. The dialer needs a service which detects the calls answered by a machine, instead of people, and filters them. We have now introduced the Answer Machine Detection (AMD) service to identify such calls and allocate the calls answered by people to the available agents. When the AMD service identifies a machine-answered call, it sends a one-way message to the call routing to end that call and resolve it automatically. AMD is a learning service and it needs some time to build an effective library of known audio samples before it reaches the maximum efficiency. Once this is done, the AMD service resolves a machine-answered call quicker than the manual effort of an agent. The transaction code appears on the Transaction Codes report.
Note: The AMD service is not applicable to the outbound calls placed by an agent, but the calls routed via campaigns.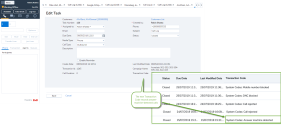 Ability to Detect TCPA-Listed Phone Numbers via Carrier Call Blocking (CCB)
8x8 Contact Center is now able to detect TCPA-listed phone numbers via Carrier Call Blocking (CCB) service for US customers. The Telephone Consumer Protection Act (TCPA) designed to safeguard consumer privacy restricts telemarketing communications via calls, SMS texts, and fax. To comply with TCPA, we have introduced Carrier Call Blocking (CCB) service for campaign calls which allows the campaign manager in the Dialer to apply special routing to two carriers: Brightlink and RSquared. They will then run dialer calls through a service that checks whether or not the phone number is listed on a Do Not Call (DNC) or mobile block list. If listed, the call is terminated by the carrier and an appropriate Session Initiation Protocol (SIP) code response is sent back to the interaction router. The call is then handled by our Auto-TCL and completed. If CCB is enabled for your campaign, the dialer checks whether the outbound call's phone number is listed on TCPA list. The transaction code appears on the Transaction Codes report.
Ability to Automatically Assign Transaction Code (Auto-TCL)
8x8 Contact Center automatically assigns transaction codes to the campaign calls when the destination party is not available to answer the call, or the call cannot be completed, such as when there is a busy tone or dead line. This also includes identifying calls that are answered by a machine. Auto-TCL works with Answering Machine Detection (AMD) service to identify such calls and automatically disposition them. It then moves onto the next call with minimal agent disruption. This feature allows agents to be more efficient with their time. Auto-TCL feature must be provisioned for the tenant and enabled by the administrators. The transaction code appears on the Transaction Codes report.
Note: Auto-TCL supports campaign calls only.
See our content on all Previous releases.