Report on campaigns
On initiating a campaign, campaign calls are offered to agents for processing. As an 8x8 Contact Center

A contact center that enables agents to be located in different geographical locations yet managed as if they were located in the same physical location. supervisor, you may monitor and control these campaigns. You can generate historical reports to get information on campaign statistics for analysis and to determine the need for follow-up actions, based on transaction codes, and for further recycling of the campaigns.
If your 8x8 Contact Center tenant includes the optional Dialer feature, your contact center administrator is able to set up the Dialer functionality and create campaigns.
You can generate reports of the campaigns you supervise. The new campaign filter allows you to filter the report data by selecting the desired campaigns. The following reports provide exclusive details about new, running, and completed campaigns.
Campaign details
This report provides information about campaigns including campaign name, status, start and end time, total number of records processed, retry properties, and statistics of calls processed, based on the wrap-up codes.

Campaign record details
This report details each campaign record providing information on the status of each call, phone list available for each record, transaction information, the phone number called previously, time the call was completed, disposition action, wrap up code, and more. You can select a single campaign or multiple campaigns for reporting.

Campaign transaction details
This report includes transaction details for each call, such as the processing time for each transaction, post processing time, and total processing time, in addition to the campaign record details.

Note: AMD, CCB, and Auto-TCL services create system-generated transaction codes. Transaction codes record the outcome of each interactions using codes such as "Answer machine detected", "Call rejected", "Mobile number blocked", "Temporary failure", etc.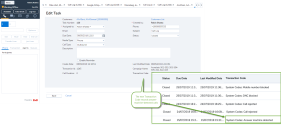 See Also