Understand basic entities of
8x8 Contact Center
The primary call-handling characteristics of your 8x8 Contact Center are determined by four interaction processing and reporting entities. When a phone, chat, or email interaction enter 8x8 Contact Center, appropriate channels receive them, direct them to the desired queues, and lastly to agents who are members of the queue. The following image shows an overview of 8x8 Contact Center entities and relationships.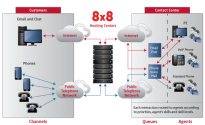 The following table lists the entities in the order they process an incoming service request:
Call handling or reporting entity
Description of inputs, operation, and outputs
Channels

Receive new service requests (calls or interactions) from phone, email, or chat communications media.
Categorize each incoming service request.
Send incoming service requests to the appropriate queue.

Queues

Receive service requests from one or more channels.
Prioritize each service request.
Send service requests to the agents assigned to the queues.

Agents

Receive prioritized service requests from queues.
Service the incoming interaction.
Complete the interaction.

Groups
Specify organizational categories, such as Sales or Support, used to analyze and report upon the performance of the contact center's Channels, Queues, and Agents.

See Also